Ready Availability
ACT helps independent shops be more competitive by catering to their high temperature purification needs and production schedules. (You're no longer at the mercy of large manufacturers to fit their furnace schedule.)
Cost Control
Using our facilities lets you avoid the cost of purchasing, installing, and operating expensive heat treating furnaces at your facility.
Environmental Compliance
As environmental costs continue to escalate, we can provide complete purification services so you can escape the expense and red tape associated with clean-up, waste disposal, emission standards, etc.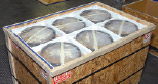 Purified parts are packaged and ready for shipment.
Flexibility & Fast Turnaround
With eleven furnaces in operation, we can handle high temperature heat treating, annealing and vacuum processing projects of all sizes… and partial runs are never a problem.